16

Nov

Amy Winehouse Sparkles Again
---
Nineteen48 recently had the pleasure of collaborating with Dorset-based sculptor, Linda Joyce, by adding a touch of sparkle to Linda's sculpture of Amy Winehouse. We sourced a selection of garnets and moonstone that were used to enhance Amy's heart-shaped tattoos, her lip stud and even put a twinkle in her eye.

Linda has donated the bronze sculpture to the Amy Winehouse Foundation and it will be auctioned at a charity ball on Wednesday 20th November. The foundation works to prevent the effects of drug and alcohol misuse on young people, as well as supporting and inspiring vulnerable and disadvantaged young people to help them reach their full potential (http://www.amywinehousefoundation.org).

"The gemstones from Nineteen48 have added a beautiful finishing touch to my sculpture and I am grateful to them for supporting my work", said Linda. "We now hope that the auction is a success and we can raise substantial funds for the foundation to continue its great work".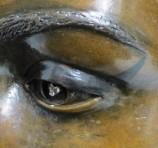 Nineteen48's co-founder, Stuart Pool, commented, "Supporting good causes is a central part of our business and we were honoured to be able to play a small part in Linda's project. We look forward to working with her again in the future".