29

Dec

An Evening of Gemstones at Flux 'n' Flame
---
We recently gave another of our very popular, short talks on the basics of gemstones and gemology. This time, the event was hosted by Jesa and Al Marshall at the Flux 'n' Flame jewellery school in Dorset.

As well as hearing about how gemstones are mined and cut, a group of 11 enthusiastic students enjoyed learning about the properties of gemstones and also understanding how those characteristics are important in relation to jewellery design.
There was plenty of time for everyone to examine a wide range of Sri Lankan gemstones, with Gary and Stuart on hand to explain a few tricks of the trade when it comes to gem buying and some ways to distinguish the good stones from the bad.
As usual, the time was too short to cover everything in depth, so we are hoping to return to Flux 'n' Flame for another session or two sometime soon.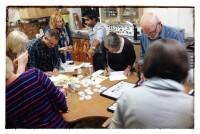 If you run a jewellery school or teach a class and you would like us to give a talk to your students then please get in touch on 07747-624040 or email info@nineteen48.com.