31

May

Beautiful Blue Topaz From Sri Lanka
---
From the Balangoda region of Sri Lanka, we have been fortunate to source 5 blue topaz, which were cut locally by a very skillful gem cutter. They are truly impressive examples of this gemstone.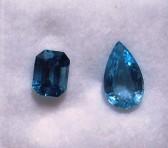 We have four baguette cut stones, ranging from 2.75 carat to 5.71 carat, as well as a 7.82 carat teardrop cut.
All of the stones are a deep shade of blue and prices range from £30-£65 per stone.
To order one of these excellent gemstones, please contact us on 07747-624040 or via email on info@nineteen48.com.