13

Mar

Discovering the Treasures of the Kristall Gallerie
---
In the town of Swakopmund on the Namibian coast, there is a fairly unassuming structure that could easily be overlooked as a modern apartment block or office building. However, housed within is a quite staggering array of minerals and gemstones. Gem lovers and rockhounds who find themselves in this part of Africa should undoubtedly spend a couple of hours in the Kristall Gallerie.

Founded in 1998, this treasure trove of rock samples, gems and jewellery began as the collection of a very enthusiastic hobbyist, Johannes Adolf Kleynhans, but has become a fine museum that has some captivating exhibits. From amethyst geodes to huge slabs of quartz, the pieces on show are guaranteed to impress.
The museum is home to the world's largest quartz crystal cluster which is proudly displayed on the ground floor. Measuring around 3m by 3m and weighing an incredible 14,100kg, it took 5 years to excavate and is thought to be over 500 million years old. The cluster is clearly the museum's most prized exhibit. To stand next to this amazing piece of quartz is worth the price of admission on its own.

However, the Kristall Gallerie is also home to impressive examples of pietersite, selenite, aquamarine, pyrite and fluorite, to name but a few. There are even a few pieces of brightly-coloured sulphur. Alongside the minerals, you will find exquisite faceted gemstones. The museum has not only the customary gift shop, but also a small boutique dedicated almost exclusively to the gemstone tourmaline. Here, you will discover some beautiful specimens and more than a few collector's items.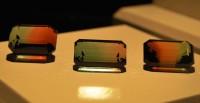 Whether you have a love of geology or gemology or you can simply admire natural beauty then an opportunity to visit the Kristall Gallerie should not be missed.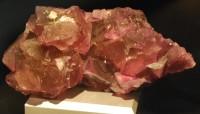 For more information, please visit their website at: