13

Feb

Gem Fairs & Talks in Scotland with Gemstones Brazil
---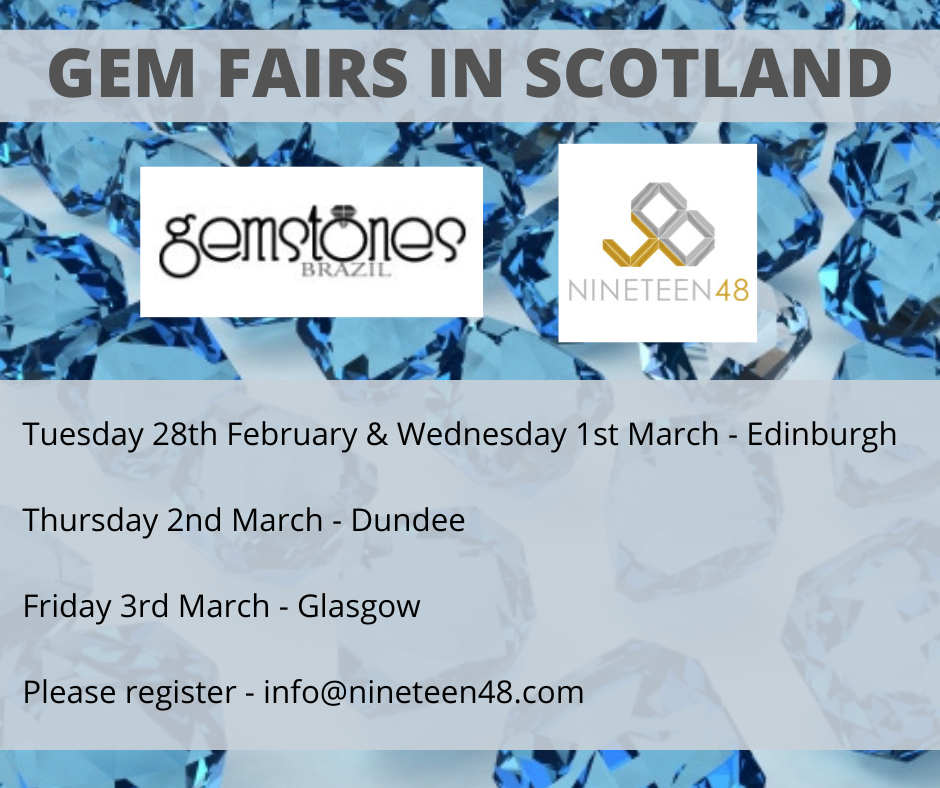 From 1st to 3rd March, Nineteen48 is collaborating again with Gemstones Brazil for a series of gem fairs in Scotland, visiting Edinburgh, Dundee and Glasgow on consecutive days.
There will also be a talk with the Scottish Gemmological Association on 28th February in Edinburgh.
At all the events, we will have a range of responsibly sourced and fully traceable gemstones available to buy from sources in Sri Lanka, Brazil, Australia, Malawi, Tanzania and the USA.
Times and dates as follows:


Edinburgh - Tuesday 28th February
7-7.45pm - Talk ("Developments in the Ethical Gemstones Marketplace")
7.45-9pm - Networking and gem sale (with the Scottish Gemmological Association)
Methodist Centre
25 Nicolson Square
Edinburgh
EH8 9BX


Edinburgh - Wednesday 1st March
10am-4pm - Ethical Gem Fair and Ethical Making Programme information (with the Scottish Goldsmiths Trust)
4.30-5.30pm - Drinks and networking
Clockwise Offices Boardroom
Commercial Quay
84 Commercial Street
Leith
Edinburgh
EH6 6LX


Dundee - Thursday 2nd March
10am-2pm - Ethical Gem Fair

Duncan of Jordanstone College of Art
Jewellery Department
University Of Dundee
13 Perth Rd
Dundee
DD1 4HT


Glasgow - Friday 3rd March
11am-5pm - Ethical Gem Fair
5-6pm - Talk and drinks
Vanilla Ink Jewellery School CIC
3rd Floor
60 Brook Street
Glasgow
G40 2AB
It's free to attend, but please email us to register in advance, so that we know you're coming.
Maira Toledo (Gemstones Brazil) - maira@gemstonesbrazil.com
Stuart Pool (Nineteen48) - stuart@nineteen48.com
We look forward to seeing you!