15

Nov

Is Sri Lanka the "sweet shop" of Gems?
---
Looking through the gem gravels in Sri Lanka is the gemmological equivalent of being a kid in the proverbial candy store.
Gem mines on the island tend to be secondary deposits, rather than primary gem sources. That has a thrilling, yet challenging, knock-on effect.
A secondary (or placer) deposit is where the gem material has spent millenia travelling from all directions over great distances to gather together in its new location. It means you don't simply find one or two types of gemstone, you should find several.
A selection of rough gemstones from a single mine in Sri Lanka.
For a gem miner, gemmologist or rockhound, this makes a mine in Sri Lanka a particularly interesting place to be when the gem gravel is being washed. You just never know what is going to appear in the mud.
It also means that the miners have to be especially skillful, so they can quickly identify any one of the dozens of gemstones they might find.
For example, within the first couple of weeks of digging at one of our new mines, we found amethyst, spinel (pink and blue), sapphire (pink and yellow), tourmaline (brown, green and pink) and aquamarine. Not a bad haul to start with! Even though they are all relatively common gems, picking them out from the other stones in the washing basket can be tricky.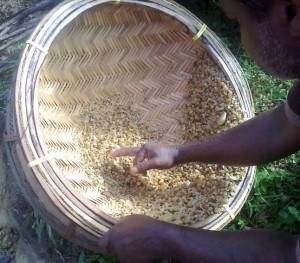 In addition, there is always a chance that, at any moment, you could find something incredibly rare and precious, such as taaffeite or sinhalite, so you need to watch out for those too. Easier said than done!
This incredible range of stones is just one of the reasons why Sri Lanka is amongst the most fascinating gem mining environments in the world.