01

May

Kandy Kids' Trip to Sri Lanka 2013 (Part 3 of 3)
---
In January and February 2013, Steve O'Driscoll from Kandy Kids was in Sri Lanka to distribute the money that the charity had raised during 2012.
While he was there, Steve spent time at each of the three orphanages supported by Kandy Kids, each of which has its own specific requirements and individual priorities which Steve aims to address on every visit.
Tikiri Sevana Orphanage
This year was the first time that Kandy Kids had worked with the Tikiri Sevana Orphanage which caters for 24 children, mainly babies and small children.
"As you might expect, making contact with a new orphanage is not always an easy process", said Steve. "We cannot simply walk up and knock on the door. We are very grateful for the work done by our local helpers to make this connection, which has meant that we are now in a position to help a third orphanage in the Kandy area".
Providing Essentials
During his visit, Steve provided a range of essential items that the orphanage needs every day in order to function effectively, such as food, toiletries and cleaning products.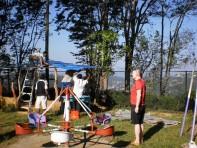 It was also apparent that much of the children's playground equipment was in need of repair, so Steve engaged some local workmen to make the equipment safe for use.
New Toys
There were also sufficient funds to provide the orphanage with some new toys and other playground items, which was certainly very popular with the children.
Overall, the first visit to the orphanage was a great success and Steve is looking forward to making more progress next year.
Please note that we have been asked not to put any photos of the children from the Tikiri Sevana Orphanage on our website.