31

May

Light Green Tourmaline and Yellow Chrysoberyl Now in Stock
---
Especially for jewellery makers, we have a parcel of 10 light green tourmaline (oval and baguette cuts), sourced in the Ratnapura region and on offer for a special parcel price of £195.
Sizes range from 0.25 to 0.65 carats. Individually, the stones would retail for £20-25 each.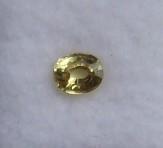 Also from Ratnapura, we have in our stock an outstanding, 0.71 carat, yellow chrysoberyl (oval cut) for the bargain price of just £35.
To take advantage of this great offer, please contact us on 07747-624040 or via email on info@nineteen48.com.