05

Dec

Nineteen48 Supports Local Charity's Fundraising Appeal
---
During December, visitors to five of Bournemouth's top hotels have the chance to win some fabulous prizes whilst helping to raise much needed funds for local charity, BCHA.
Guests visiting The Norfolk Hotel, The Miramar Hotel, The Riviera Hotel as well as Day's Hotel and the Hallmark Hotel will be able to help them decorate their Christmas trees by making a donation to BCHA in exchange for a bauble. Anyone giving £20 or more to the Christmas Tree Appeal will be entered into a prize draw (sponsored by Nineteen48) with a first prize of a magnificent 2 carat blue sapphire (worth around £1000). The second prize is a 4 carat blue topaz and the third prize is a bottle of champagne.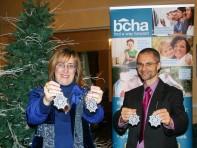 Lorna Trent, BCHA's Fundraising Manager, explained, "We are extremely grateful to all the hotels taking part in this campaign who are asking their visitors, guests and friends to help us raise money for homeless and other vulnerable people in our community. We also thank Nineteen48 for their generous sponsorship of the appeal. Money raised will be used to fund hot meals, clothes, specialised counselling sessions, emergency support packages and even Christmas presents for young people unable to live at home."
Stuart Pool, co-founder of Nineteen48, added, "We are very proud to be able to support the BCHA appeal and help in some small way to raise essential funds for their excellent work. Assisting charities is central to our company ethos and we welcomed this opportunity to help one of the area's most prominent charitable organisations."
Donations will be accepted for the whole of December and the prize draw will take place on the 31st December.