25

May

Nineteen48 Teams Up With Prominent Dorset Charity
---
High-profile, Poole-based charity, Lewis-Manning Hospice, recently held their annual Sunflower Ball and we were very proud to be invited to put on a display of gemstones and jewellery at the event.
Lewis-Manning offers free, specialist palliative nursing care to around 650 local people living with cancer and other life-limiting illnesses and it is celebrating its 21st birthday this year. For the fundraising event, we displayed a range of our high-quality gemstones that guests could peruse whilst they enjoyed their pre-dinner drinks at the Cumberland Hotel in Bournemouth.
One of our founders, Gary Seneviratne, explained, "As a business with firm roots in Dorset, we are very pleased that Lewis-Manning gave us the opportunity to showcase our gemstones to their supporters and to help raise money for such a good cause."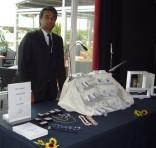 As an ongoing commitment, we are donating to the charity 20% of our profits from every sale to supporters of Lewis Manning Hospice.
Maria Tidy, Fundraising Manager at Lewis-Manning Hospice, commented, "We appreciate the support from local businesses like Nineteen48 and it was great for our guests to see some spectacular gems on display this evening. The display fitted perfectly with our theme of summertime glitz and glamour."