24

Apr

Our First Mine Has a Name!
---
Our mining project in Sri Lanka has now been officially named as "Pathal Pola 1", which is the Sinhala for "gem pit". This is the term that is used by the mining team themselves so we thought it was the most appropriate title for the project.
The team has already completed three exploratory digs and the results have been very promising, with discoveries of sapphire, topaz, garnet, tourmaline and even some small examples of the rare padmaraga (pink/orange sapphire).
The weather conditions have been good which has allowed the team to make excellent progress and they worked hard to complete the exploratory work before the new year break in mid-April.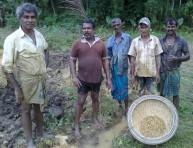 Towards the end of April, we will be making an inspection trip to the mine to ensure that all work is being undertaken in line with our ethical and environmental policies and to make sure that the team is happy with the results so far.
More detailed reports about the mine will follow in the next few weeks.