20

Feb

Our First Mining Project Has Begun
---
After many months of careful preparation, our first mining project is now underway. The team has cleared a small area of land and has started constructing the various shelters and support structures that we will need for the duration of the project.
Natural Materials
The majority of the construction uses either natural materials which are locally sourced or re-uses the materials that were cleared to make space for the mine itself. This means that we can minimise our impact on the environment and the area surrounding the mine.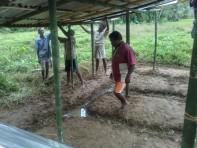 Fully Traceable Gemstones
The mine is a crucial part of Nineteen48's business plan, as it means that we will be able to achieve our goal of having end-to-end traceability for our gemstones. In other words, unlike many other gem dealers, we will be able to tell our customers exactly where our stones originate and how they were mined.