10

Feb

Rockhounding in Tucson – a First-timer's View of the Biggest Gem Show on Earth
---
We generally expect that, whatever the Americans do, it is going to be on a grand scale. From presidential elections to the Superbowl, everything has to be bigger, brighter and bolder than anything you have seen before. The same can certainly be said of their showpiece gem event in Tucson, Arizona.
To be accurate, the Tucson gem "show" is a veritable extravaganza of activities relating to gemstones, minerals, fossils and a whole lot more besides. From the larger trade shows run by recognised brands (AGTA, JCK, JOGS, GJX… how many acronyms does an industry need?) to the pop-up exhibitions that you'll find scattered across the city in numerous motels and car parks, there is literally something for everyone.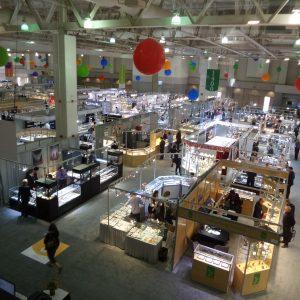 It is, in a nutshell, over two weeks of rockhound heaven.
Whether you are looking for a few beads to make a necklace or the next top-quality exhibit for your museum, then you will almost certainly find it in Tucson. There are gems by the truckload, fine jewellery, beautiful antiques, monstrous mineral specimens, entire dinosaurs and much, much more…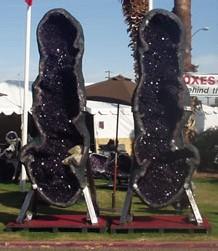 Looking for an exquisitely faceted morganite? No problem. Need a geode that's bigger than your car? We've got that covered. Desperate for a complete fossil of a 50,000 year-old alligator? There's one around here somewhere… It's that diverse.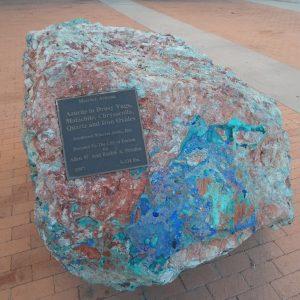 But it's not just about the rocks in Tucson. This event attracts experts from all around the world, many of whom are more than willing to share their knowledge and experience with fellow attendees. There are many formal lectures and talks, an endless stream of social events and simply thousands of opportunities for informal conversations on a mind-boggling array of subjects. Whatever your particular passion in the field of rocks, gems and fossils, you will find plenty of likeminded people who are ready to chat with you.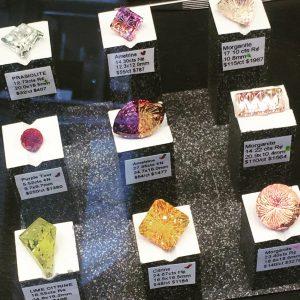 Of course, it's about business too. Whether you are buying or selling or both, there are deals to be done and money to be made. We are, after all, trying to make a living in this industry, as well as enjoy ourselves.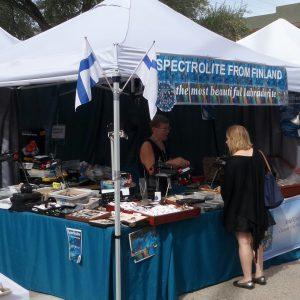 Immersing yourself in Tucson can be simultaneously fascinating, exciting, overwhelming and exhausting. You need to pace yourself in the desert environment (everyone tells you to drink water constantly). Don't try to do it all. It's not humanly possible. Soak up as much as you can and then, before you leave town, don't forget to book your hotel for next year…