11

Aug

The Ascent of Mount Fuji
---
Our co-founder, Stuart Pool, recently scaled Mount Fuji to raise money for charity and this is his account of the climb…
On the weekend of 13/14th July 2013, I was a member of a 6-person team attempting to climb Mount Fuji in Japan. For my part, I was raising money for Kandy Kids, a charity that does some excellent work with orphans and underprivileged children in Sri Lanka.
Having spent a few months training hard to improve my strength and endurance, I was fairly confident that I would be able to complete the challenge, but little did I know how hard it would prove to be.
We left Tokyo by car around 5.30am so that we could make it to the starting point in good time. Of course, we had to contend with the traffic congestion that is typical of Japanese motorways, but spirits were high and we were all feeling good about the climb.

As we approached Mount Fuji by road, I think we all started to appreciate for the first time just how big a mountain it is and the fact that our climb may not be as straightforward as we thought. However, at this point, we were certainly in no mood to be put off and our good humour was not dampened.
We made it to the car park at the base of the mountain by late morning and took a short bus ride to the starting point. We gave ourselves around an hour to acclimatise to the higher altitude and generally prepare for the ascent.
After a hearty meal of gyuu-don (beef and rice) and a few commemorative snapshots, we set off along the well-signposted path up the mountain.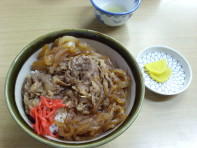 Of the four main paths defined for climbers, we had chosen the Subashiri trail, which begins with a section through the woods. This afforded us some shelter from the light rain, but exposed us somewhat unexpectedly to hordes of man-eating insects. As it was still very warm at the lower levels, I had foolishly started the climb in shorts, so before I knew it, I had been bitten several times. Although not painful initially, I was later to discover just how vicious black fly bites can be…
Apart from the bugs, we trekked happily through the forest and made it above the tree line in good time. It was here that we could see exactly how steep the trail was and how exposed we would be for the remainder of the climb. At this point, our thoughts also turned to working out how much longer it would take to reach the lodge as the clouds looked menacing and the rain was getting heavier.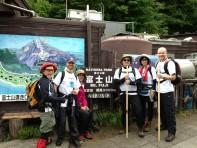 In our heads, we divided the climb into smaller, manageable sections and, slowly but surely, we covered the distance between stages. It was important not to climb too quickly (I'm not sure there was too much danger of that!), in order to avoid altitude sickness, so we paused regularly for water and high-energy snacks.
As the rain intensified and the daylight began to disappear, we made it to the lodge at the 7th stage (around 3000m) and hurriedly settled in to the cramped and smelly accommodation, which was to protect us from the storm for the next few hours. Please dispel any images you might have of grandiose alpine chalets with roaring fires. Our lodge provided the most basic of amenities and was little more than a glorified garden shed.
Huddled shoulder-to-shoulder with around 20 other climbers, we did our best to get some rest and recover our strength for the second half of the climb. Listening to the howling wind and rain outside, we were grateful to be in the relative safety and comfort of the lodge, although as the storm persisted, we wondered if there was ever going to be a good time to start the next leg.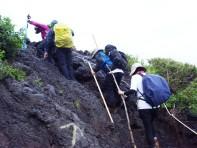 At around 1am, the rain stopped and we decided that now was the time to set off again before the conditions worsened or we simply became too fatigued to go on. Unfortunately, at this point, two of our party decided that they could not continue with the climb and remained at the lodge, so our group was reduced from 6 to 4.
Joining the trail with a surprisingly large number of other climbers, who were attempting to make it to the summit in time for the sunrise, we braced ourselves for what was going to be a brutal 5 hours of climbing.
Thankfully, the rain had stopped, but the temperature had dropped significantly and the wind was incredibly strong. At some points, it was all we could do to remain standing in the face of fierce gusts and I even saw a couple of people blown to the ground. We had all put on multiple layers of windproof and waterproof clothing, but despite wearing two pairs of gloves, I lost the feeling in my fingers. I was certainly glad I packed two woollen hats to go under my waterproof hood.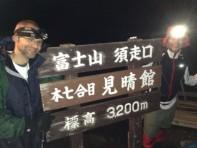 As we moved above 3200m, it became increasingly hard to breathe and combined with our overall fatigue by this stage, it meant that our pace was reduced dramatically. A couple of times, we inadvertently strayed off the marked path and had to retrace our steps. It was easy to see how the darkness and exhaustion could quickly put you in a dangerous situation and we moved ahead with extreme caution.
We stopped frequently to rest and catch our breath. It was important to keep eating and drinking to maintain our energy levels and we consumed a variety of sugary snacks to keep us going. If nothing else, mountain climbing is a great excuse to eat chocolate brownies and flapjacks!
The conditions were at their worst just before sunrise, when the wind intensified and the temperatures were at their lowest. As I struggled to put one foot in front of the other or even hold myself upright against the wind I could feel my resolve weaken and I had a moment where I seriously doubted if I could make it to the summit.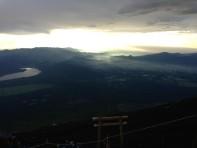 However, having come this far, I was simply not going to accept that I could not succeed. As the sun began to peek through the clouds and we were able to see without using our head torches, my morale was lifted again in time for the final push upwards. We stopped for a while at the 8th stage to watch the sun come up and take a few photos. Then it was time to make our way to the top.
The final part of the trail was relatively narrow and the sheer number of climbers meant that the last 200m or so was very slow going. Personally, I was grateful to slow down and avoid the danger of altitude sickness. I had a canister of oxygen in my bag just in case, but fortunately I did not have to resort to that. We trudged steadily with our fellow climbers and at just after 6am, we set foot on the top of the mountain.
It was an incredible sense of achievement (mixed with relief!) at having made it all the way to the summit. We found shelter in one of the small buildings at the top and enjoyed a can of hot chocolate to restore our energy and bring some feeling back to my fingers.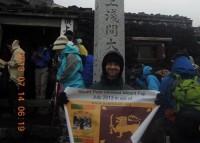 We had a short time to enjoy the view and take the obligatory photos from the peak, before we decided that, if we did not keep going, our legs might not make it all the way to the bottom.
They say that the descent is harder than the ascent and they are not wrong. By the time we started on the downward path, we had been awake for the best part of 24 hours and we were already very, very tired. However, when one is at the top of a mountain, one doesn't have a lot of choice, but to come down again, so we set off on the sandy paths sliding downwards like we were on a huge sand dune.
As we descended, the temperatures rose again and by the time we neared the finish, it was over 35C. We were exhausted, our bodies ached and my feet felt like I was walking on broken glass, but eventually we made it back to the starting point and collapsed in an undignified heap.
It had been the toughest endurance test of my life and I was sure that I would not be able to walk properly for a week at least. As we made it back to the car, the mood of the group was best described as "silent but satisfied". We simply did not have the energy to be more exuberant than that.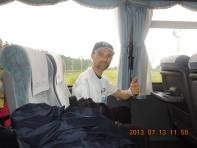 We made it back to Tokyo quite quickly, or so it seemed. I slept most of the way and I was grateful that our driver was made of sterner stuff and managed to deliver us safely back home.
After some food and a much-needed scrub in the shower, I slept for 12 hours straight, utterly drained of all energy.
The next day, I felt surprisingly good, all things considered. However, it was then that I realised the extent of the damage inflicted by the black fly. My souvenir from Mount Fuji comprised of several very sore and itchy bites and a significant swelling in my left ankle.
Fortunately, after a few days, the worst of the swelling subsided, but I am left with the scars from the bites as a permanent reminder that climbing any mountain should not be undertaken without due consideration and careful preparation. Next time I go, I will definitely remember the insect repellent!
Did I just say "next time"..?
P.s. Donations to Kandy Kids can be made through Stuart's fundraising page at: